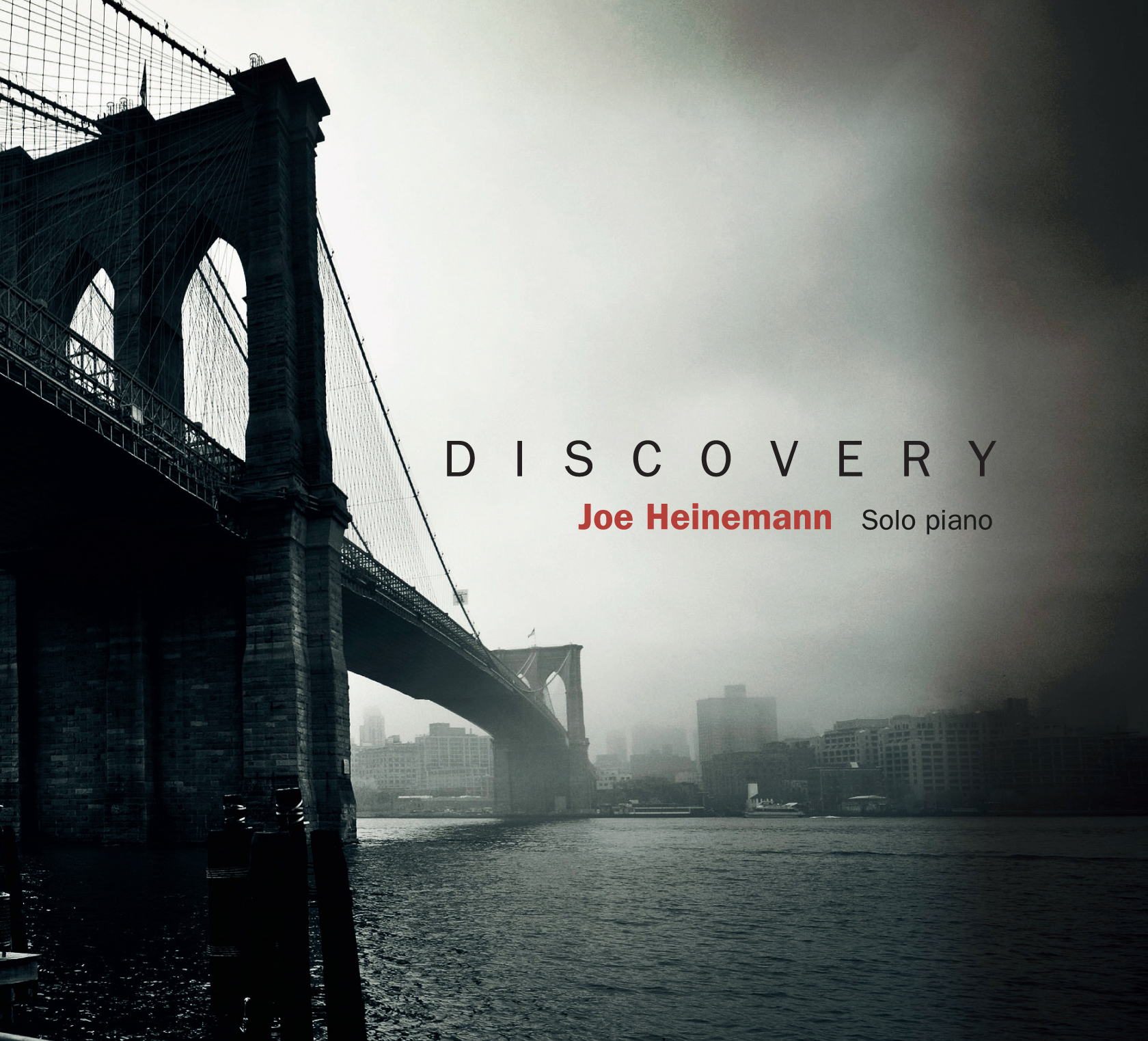 When you explore, you discover.
We artists constantly need to push the boundaries of our creativity.
That means opening a door, going in to a new place, not just to survive, but to thrive.
If you add to it, lack of conditioning and limited tools and materials, you're forced to really "Bring It". "Wing it" won't do.
And if you try to prepare yourself for it, the spirit goes away. And this is solo. No one can help.
What seems like the obstacle - is the way
New Release - January 2018
"Joe Heinemann is a guy who arrived for our first sessions together as an accomplished jazz pianist with a résumé of years of performing and composition to back him up. His playing is both powerful and stunning in its competence and elegance. His objective in our recording 'Gratitude' was to translate those talents into a body of work that explored melody over rhythm and space over speed.   It worked.   The self-assurance of his performance when combined with the melodies he discovered in himself proved to be a balance of remarkable beauty and breathtaking confidence."
 
Will Ackerman - Grammy Award Winning Producer/Guitarist
and founder of Windham Hill Records





 
Joe Heinemann's long and successful career in jazz and blues has now led him to an entirely new sound on his solo piano debut, Gratitude. Recorded at Imaginary Road Studios with co-producers Will Ackerman and Tom Eaton (who also engineered, mixed and mastered the album), Gratitude represents not just a change in Heinemann's musical direction but also marks his emergence as a force to be reckoned with in this genre of music, referred to as "the rebirth of the Windham sound" by noted music reviewer Bill Binkelman. Heinemann's piano melodies, sometimes accompanied by other acoustic instruments, are reflective, intimate, unquestionably personal and heartfelt, and were recorded with superb attention to detail. 

What Critics Are Saying: 
MICHAEL DIAMOND, MUSIC AND MEDIA FOCUS 
"The Latin root of the word 'gratitude' means 'pleasing.' The new album by pianist and composer Joe Heinemann...Gratitude certainly lives up to the origin of its title as the word 'pleasing' provides a perfect description of the graceful and elegant melodies found within its [eleven] tracks." 
BILL BINKELMAN, ZONE MUSIC REPORTER 
"The 'quiet' beauty of Gratitude's cover photo perfectly captures the mood of this outstanding release by pianist Joe Heinemann. The music takes you gently by the hand and walks you through a comforting soundscape of gentle piano melodies with occasional superb backing accompaniment. Heinemann has had this music inside of him for a long time, I'd wager, and now that it has been recorded and released, it is a rare gift from a musician of uncommon talent and grace to an audience that doubtless will fall head over heels for one of the best recordings of its type in several years." 


Key Tracks: Sign of Spring, Gratitude, Lenape  
Dana Wright, Sr. Staff Writer  
January 22, 2016  
Review Provided By New Age Music Reviews

Joe Heinemann has been dipping his toe into music since the young age of seven. Studying everything from jazz to classical and dance music, he has progressed to solo piano. This new album is all about leaving something behind. To explore new horizons and know that what you've accomplished is what you were meant to do. It is a theme that resonates with a lot of artists, writers and composers and with this album, the desire is well met. 
Gratitude brings us a look at the tender emotions that make up life and living and the knowledge that in one breath, it could be gone in an instant. "Lenape" is the first song on the album, and begins with tender strokes along the piano keys. Each touch of the finger brings meaning and introspection. We are alive. We breathe. We feel-even when it hurts. Strings slide along and whisper sweet nothings alongside the piano movements, crafting a sweet melody that haunts the soul and draws us into the album. 
"Sign of Spring" is one of the flagship tunes on the album. It begins with a poignant glimpse into a brisk spring morning, full of hope and expectation. Rain splashes down on the fresh green stalks of grass, each bursting with life. Each keystroke is implemented with a purpose, plodding and well thought out. It is an awakening of the earth and the soul. 
"Gratitude" is the title track on the album and a very apt song title. Meaningful keystrokes illustrate emotion, highlighting our inner lives. Gratitude comes when you appreciate the world around you. It is in the small things. The simple act of giving, a lick from a dog who loves you, a tender glance between husband and wife. It is the air we breathe and the essence of our being. With every keystroke, Heinemann illustrates why it matters. To have gratitude is to appreciate life in all of its foibles and idiosyncrasies. To be fully aware that we aren't perfect and to be loved in spite of it. 
Joe Heinemann has created an album filled with blissful moments. For days I've listened contently writing while my dogs huddle around my feet in abject happiness. There is joy in the little things and today as rain clouds tease me with the promise of a dark afternoon for writing and thought, I'm grateful for this music and happy canine companionship. Heinemann takes our longing, our late nights and our solace and wraps it up in one neat little album. Every note is right on. Every emotive melody there for us to relish over and over again. And I have-and will again. This album is a must have if you enjoy a quiet interlude away from the world.